About us
Caritas School is located in Beeston, Nottingham, 400 metres from the town
centre and bus station and 1200 metres from the train station.
The School is located within Caritas Natural Health Clinic, owned and run by Debbie Holler.
The building was originally the old Beeston police station, which has lots of character, high ceilings and a fresh new look, Caritas has oodles of charm.
Ample parking is available for attending students. Beeston is a thriving
town, located just 4 miles from Junction 25 of the M1. Please see this map or
alternatively plan your journey through the AA route finder.
Education
There are no requirements other than the willingness to learn. Most of the students entering Reflexology do so because they want to change their life for the better.
Therapists room: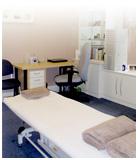 If you are a self employed holistic therapist and want to become part of the Caritas Natural Health team, we have two well equipped and beautifully designed rooms for hire. Visit the Caritas Natural Health Clinic to find out more >>