Tutors
Debbie Holler (Principal & Tutor) is a practicing Reflexologist. She runs and owns Caritas Natural Health Clinic, where the School is located.
Her enthusiasm in the classroom and previous business experience prompted the previous owner to offer Debbie the opportunity to take over the clinic, which she did in early 2006. She had trained at Caritas School with the previous principal and tutor and worked alongside her in the school for a number of years before taking over.
Debbie has a wealth of knowledge, experience and wisdom to pass onto her learners.
Your course will be packed with everything you need to start your own business as a sole trader.
Therapists room: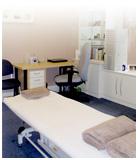 If you are a self employed holistic therapist and want to become part of the Caritas Natural Health team, we have two well equipped and beautifully designed rooms for hire. Visit the Caritas Natural Health Clinic to find out more >>