Practitioner CPD - Maternity Reflexology
Maternity Reflexology Course - Complied by Susanne Enzer.
Presented by Approved Trainer Jenni Tribe RGN RM (ret'd) Dip.HE MAR PRM EFTMAR
Jenni is an experienced retired midwife and Reflexologist, and has been teaching Authentic Susanne Enzer Maternity Reflexology since 2008. She is a full member of the AoR and PR.
The Maternity Reflexology Course will give you the skills and confidence to treat women from pregnancy, labour and postnatally. The benefits of Maternity Reflexology for these women, partners and their babies are amazing and so rewarding.
The Maternity Reflexology Course is an exciting, interactive course designed to provide participants with a basic understanding of women's fertility and pregnancy.
It enables participants to use the principles and practices of reflexology to support those processes.
The course also includes information about the development of the Incoming Soul with its manifestation of the mother's feet and reflexology care for the new born baby.
Other energetic techniques (including EFT) are included to promote self-development of the Reflexologist. More is described on the website: www.maternity-reflexolgy.com
General Information:
Maternity Reflexology course is a postgraduate course for Reflexologist.
Pre-requisites:
Anatomy and physiology (minimum 50 hours)
Certificate of Reflexology, Diploma of Reflexology or equivalent reflexology experience (minimum 40 hours) Level 3 or above.
The Duration of the Course is 4 days (30 hours) and is structured in two separate parts:

Part 1 covers the basics and the time from preconception until the end of pregnancy.
Part 2 covers the Incoming Soul, epigenetics, working the matrix, pregnant feet, birthing, the postnatal period.

Before taking Part 2 of the course, participants, ideally must have the experience of working with pregnant clients, or at least be in the process of gaining regular experience.
Qualification
To qualify for the Certificate of Competency in Maternity Reflexology participants are required to complete formal training, assessments, assignments and case studies. These are to be completed to the standard required by the trainer within 6 months of completion of formal training.
Interest Only Course
Participants choosing to do the course as an interest course are not required to do the assignments and case studies.
Compulsory Component
ALL participants taking Part 2 of the course are required to present a short discussion, on an aspect of their working with maternity/fertility clients, this is a wonderful sharing and learning opportunity and is very informal and in whatever form you are comfortable with.

Participants receive a Statement of Attendance on completion of Maternity Reflexology Parts 1 and 2.
CPD: 1 point per hour is awarded therefore 15 for each weekend.
Textbook: Maternity Reflexology Manual, 2004 2nd addition by Susanne Enzer.
These need to be purchased prior to training as we use these as part of your training.
Dates:
PART 1 - NOVEMBER 9th & 10th
PART 2 - JANUARY (2020) 25th & 26th
Fees:
£275 per weekend/parts (if paid individually)
£495 paid in advance for both parts
A non-refundable deposit of £200 will be necessary to secure a place on the course.
Interested? Please contact us for more information.
Therapists room: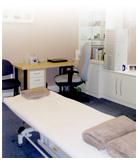 If you are a self employed holistic therapist and want to become part of the Caritas Natural Health team, we have two well equipped and beautifully designed rooms for hire. Visit the Caritas Natural Health Clinic to find out more >>
Latest News