Course Fees
1 booking fee (

non-refundable

)
£150.00
One-off payment of
£1250.00
TOTAL
£1400.00

Monthly Payment Option Available. Please request a prospectus.
The fees will include:
All tuition (approx 140 hours)
Hand-outs relevant to the course
File, notepad and pen
Hot and cold drinks and biscuits, as and when required by the student
Examination fees
Please note that no refunds will be given after commencement of the course.
Additional costs:
Student membership of AoR (compulsory) £37 approx
Reflexology course handbook £20
Anatomy and physiology text and workbook £25

(Book prices apply if ordered through the school as discounts are given for bulk orders and are passed on to learners.)
Each student is recommended to hold a Three Year Certificate in First Aid by the time that they qualify. As learners complete at different times it is advised that they arrange the course personally as the certificate is only valid for three years.
Therapists room: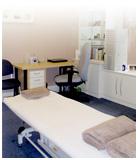 If you are a self employed holistic therapist and want to become part of the Caritas Natural Health team, we have two well equipped and beautifully designed rooms for hire. Visit the Caritas Natural Health Clinic to find out more >>