AoR Affiliated School
Caritas School of Reflexology is Affiliated with the Association of Reflexologists (AoR).
The AoR is one of the biggest and most respected Reflexology organisations in the UK. And represents integrity and vision and is dedicated to ensuring the availability of high quality training, membership services and research development.
AoR Affiliated schools meet strict criteria set by both awarding bodies and also the AoR, to ensure the best courses are delivered, assessment criteria are met, and learners have the best possible training.
So, what are the benefits of training with an Affiliated School?
Students will receive both the Level 3 Diploma and an AoR certificate as a sign of excellence in training.
Upon completion you will have the option to full AoR membership, with the first 3 months free.
A dedicated AoR team will provide support to the school which in turn is passed onto the learners.
Tutors will attend regular schools meetings with the AoR, sharing good teaching practice with other affiliated schools.
This is great opportunity to train with one of the first AoR Affiliated Schools in the UK.
Therapists room: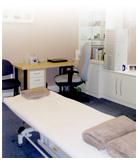 If you are a self employed holistic therapist and want to become part of the Caritas Natural Health team, we have two well equipped and beautifully designed rooms for hire. Visit the Caritas Natural Health Clinic to find out more >>
Latest News