Caritas School of Reflexology
We are very proud to announce that Caritas School of Reflexology is one of the first AoR Affiliated Schools in the UK - Delivering Excellence in Training.
Caritas School of Reflexology is an Association of Reflexologists Affiliated School. Debbie Holler (Principle & Tutor) is an energetic and enthusiastic teacher, who aims to make her courses interesting, informative and inspirational.
The school takes only small groups to ensure that students receive the best tuition possible, with a personal touch of the highest standard.
Courses run over 11 months, beginning in April.
We are now offering Practitioner Refresher Days.
Caritas course dates are in school term time only, helping you avoid child-care issues.
Therapists room: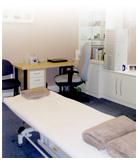 If you are a self employed holistic therapist and want to become part of the Caritas Natural Health team, we have two well equipped and beautifully designed rooms for hire. Visit the Caritas Natural Health Clinic to find out more >>
Latest News
Stay tuned
Caritas School Feed