Practitioner Refresher Day
If you are a qualified Reflexologist and haven't practiced for a while, you may want to refresh your knowledge and update your skills.
Our refresher days are designed to work specifically with your needs, get you 'back on track' and treating the public again, with confidence and passion.
Debbie will speak with you prior to your Refresher Day and focus on where you both feel you need to 'update', she will work with you one to one, in a relaxed environment within the clinic.
A typical day may include:
Legislation update, contra-indications, effects of reflexology, pathology research, treatment planning, and a practical session, followed by record keeping.
Refresher Day Fees: £160 - Weekdays Only.
A certificate of attendance will be awarded with one CPD point for each hour.
Please enquire now.
Therapists room: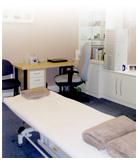 If you are a self employed holistic therapist and want to become part of the Caritas Natural Health team, we have two well equipped and beautifully designed rooms for hire. Visit the Caritas Natural Health Clinic to find out more >>
Latest News