Testimonials
"Amazaing course which has taught me so much more than I had imagined it would when I first started. We have left completely ready, with all the knowleedge needed to go forward with our business and become successful reflexologists. Debbie is an incredibly caring, intuitive and well informed tutor, whose teaching regime makes for an enjoyable experience. Her passion for her job has rubbed off on us all and I can't thank her enough." Debbie Halbert.
"I would 100% recommend this course to anyone who is interestsed in becoming a reflexologist. Debbie is a great, engaging teacher who passes on her passion for reflexology to all of her students. She is supportive throughout the course and is always on hand to answer any questions you have regarding the course work or if you need any advice with case studies etc. The clinic is beautiful and gives you a real feel when you are training for what it would be like to work in that environment. Get booked on, you won't regret it!" Kelly Hubbard.
"This has been a life changing experience for me (literally) - a new carrer, down a completely new path for me, and I am so glad Debbie was the one to guide and support me down it. She is fantastic, warm and approachable. I would absolutely recommend this course to anyone looking to make a possitive change in their life." K McBride.
"I can confirm that I, Alyson Holmes, attended the Reflexology level 3 Diploma at Caritas School of Reflexology for the last academic year. I would also like to confirm Debbie Holler MAR is an excellent teacher. Her professionalism and encouragement thrroughout the course were outstanding. At all points, if we had any questions, problems or concerns she would answer them and help us in any way she could, even in times of personal hardship or difficulty for herself. Her knowledge and ability as a reflexolgist is inspiring in many ways. She is a very talented lady but also modest with her abilities. I would happily recommend her to anyone wishing to train to gain AoR status and acieve full and proper training to meet their standards of practice." A Holmes.
"Debbie was the ideal tutor. She was easy to talk to and very supportive. Understanding of personal issues if/when any came up and just so lovely to come into in the mornings. I was very nervous starting the course, it was completely out of my comfort zone and she was so welcoming, it was just so easy to get on with. The course is far more detailed than I would ever have thought and it does put you through your paces, however it was worth it. Everything is broken down into helpful chunks and I don't think I ever walked away not knowing what was going on. Debbie is very clear and detailed in her work and it just made everything that little bit easier. I am very greatful for this time and so happy how much it has opened me up to a more spiritual side of life." Amy J Thomas.
"Debbie, you have kept us all motivated and working hard to complete each module on time. You have also made the course fun and have enabled us to work well as a group. This has really facilitated our learning. I really enjoyed the practical work, eg, practicing reflexology and would have loved more of it. I also enjoyed the session in which we mapped the foot, that was very useful in learning the foot maps. Your handouts were very clear and you have provided usefull feedback on all my written work and have marked my work very quickly. Thank you for all your hard work." Christine Phipps
"I really enjoyed my time at Caritas School, I have made many good friends and learnt so much, not only about reflexology but about myself and my confidence has grown because of this.The course involves a lot of work but I have always been supported by my tutor." Rachael Jones
"The level 3 reflexology course has been one of the most enjoyable course i have ever undertaken. The tutor has been very supportive and i cannot praise her enough (thank you!!). The course itself was very time consuming and at times has been a little overwhelming, but the support from Debbie and the group has been amazing. It really is imperative to keep on top of the work and not get behind. However, the topics have been interesting and I have learnt so much. The feedback provided by Debbie was really helpful and confidence building. Althogh I did complain rather a lot, I found the A&P fantastic when it came to understand the reflexes and conditions of the client. It was great piecing it all together. The group formed trusting releationships very quickly and I feel I have made some friends for life. The course itself is a journey and helps personal and professional development. I cannot wait to start practicing within my own business, which the course has helped to structure and has slowly walked through setting up a business and looking at the resources needed to do so. Having a previous student in to talk through what she has found useful was really helpful and motivating." C
"I loved the course! The group size worked well to allow learning and discussions, well lead by Debbie. The interactive activities were good fun and helpful to learning. I think you should redo the body parts activity again at the end, you could do it as two teams and a speed trial to put them in the right place, with extra pints for function, just to show how far we have come with the A&P. The level of homework required came as a bit of a shock but does get easier as the course goes on. I know nobody would have wanted extra homework, but it helped me loads when i discovered the contents of the blue book! Perheps read the relevant section doing the A&P work? Having everything in the clinic to be able to treat was brilliant, I think I would have struggled to carry everything I needed otherwise. The local parking was convenient and free so always a bonus. Practacal sessions are great, well guided and mentored which helps build your confidence. I can't believe I had to practice effleurage for hours and then one little tweak from debbie made it all click! It was Debbie's guidance (and answering the phone for the occational meltdown!) and support of the group that kept me going when things got hard and i could not recommend this course highly enough. Thank you Debbie for a wonderful and enlightening year. Life will never be the same again! " V Goodwin
"Debbie is an approachable and caring tutor who is a strong advocate for the benefits of reflexology. Training in a clinic setting has proven to be an added bonus".
I confirm that I have been training at the Caritas School of Reflexology. M
"Great course and teaching. Small group sizes allow plenty of time to discuss and ask questions to make sure that you understand everything. Debbie was happy for me to come and visit her to ask any questions before I made my decision. Very happy with the training :)" Ang H
"This is a tough course with loads of theory to do. Debbie has been really supportive throughout the course, by email and also over the phone with any queries I had about what I needed to write. Even when I didn't understand what the question was about she was very patient with me. If she was busy and wasn't able to answer the phone, she got back to me as soon as she could. I really couldn't have completed this course without her on -going support.Thank you Debbie I really appreciate it." - HT
"I thought this was a very good course. The content covered was very thorough with the business and A&P as well as everything to do with reflexology. The course was kept fun, and despite it being hard work, you knew you were getting a very good qualification at the end of it so, it was worth it!" - AR
"Well, what can I say? Studying Reflexology at the Caritas School of Reflexology has been a life changing experience for me. Although I already had a medical background, I have learnt so much and Debbie has been an inspiring and supportive tutor. There is a lot of coursework to complete, but the combination of classroom and practical teaching gives you all of the skills and knowledge needed to complete it. The course has been great fun and I feel that I have made great friends with both Debbie and my fellow students. I am looking forward to enrolling on the upcoming CPD courses, which demonstrates Debbie's continued support once the course has been completed and you are qualified. Thank you!!" - Alison T (aka Prof Cox Fan)
"Having completed the Caritas School of Reflexology level 3 diploma, I just wanted to write to thank you for providing such an informative, professional and fun course. I can honestly say that I've enjoyed every minute! Your talent as a tutor was obvious and your style of teaching not only facilitated the appropriate learning, but provided much humour and thought provoking discussions. Thank you again for your continuous help and support throughout the last 11 months. I look forward to attending future courses at Caritas!" - Kate W
"I have thoroughly enjoyed the course - it has been invaluable in my training as a reflexologist. Debbie has been supportive throughout the course and is always on hand to offer guidence and advice. the course is very clearly laid out and is always well presented in class. I have learnt so much throughout this course and will be sad to finish as iI have enjoyed it so much and have made some great friends along the way." - Claire M
"Debbie has certainly passed on her passion and enthusiasm for anatomy and physiology and reflexology. I have absolutely loved every day that I have been here. She adopts a serious yet fun and friendly approach. She has been supportive, helpful and understanding. The hardest part has been the home study, which has been much more time consuming than I had expected."
- VT
"I have thoroughly enjoyed the course and found Debbie to be a very knowledgeable and supportive tutor who is very passionate about the subject. There is a lot of coursework to complete but the course is well spaced out and there is plenty of time to complete the work between course dates. Well worth doing!"
- LB
"I have really enjoyed this course. I would highly recommend it. It trains you to become an excellent reflexologist and have a brilliant understanding of the body. Debbie is a very helpful and approachable teacher."
- Lucy G
"I have loved this course. I came thinking I could never do the treatments and I have left full of confidence and excitement about my future!"
- SL
NB: the school retains the right to ask any student to leave the course if their behaviour is deemed to interfere with the hopes and aspirations of other students.
Therapists room: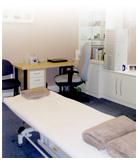 If you are a self employed holistic therapist and want to become part of the Caritas Natural Health team, we have two well equipped and beautifully designed rooms for hire. Visit the Caritas Natural Health Clinic to find out more >>
Latest News